Project Highlight: Athabasca Sand Dunes
The occupancy study of the endemic plants of Athabasca Sand Dunes Provincial Park occurred over two weeks in 2009 and two weeks in 2010. The study was to determine the population size and distribution of the endemics in the dunes as well as the sensitivity of the species to acid precipitation and the buffering capacity of the sand in the Athabasca Sand Dunes.
There were nine endemics that were surveyed for: Salix silicicola, Salix brachycarpa var. psammophila, Salix turnorii, Salix tyrrellii, Deschampsia mackenzieana, Tanacetum huronense var. floccosum, Achillea millefolium var. megacephala, Armeria maritima ssp. interior, and Stellaria arenicola. The occupancy study involved surveying transects randomly placed in varying types of habitat in the dune complex. The acid precipitation sensitivity studies were conducted at the University of Saskatchewan.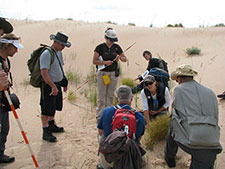 Partners in the study were the Saskatchewan Parks Service, Canadian Wildlife Service, University of Saskatchewan, Saskatchewan Ministry of Environment, National Museum of Canada, Native Plant Society, Nature Saskatchewan, and the Saskatchewan Conservation Data Centre. The Saskatchewan Conservation Data Centre assisted in the survey for both years. This included participating in the survey and adding the data to the SKCDC database after survey completion. The surveys added great value to the SKCDC as it increased the available information to rank the endemics for the province.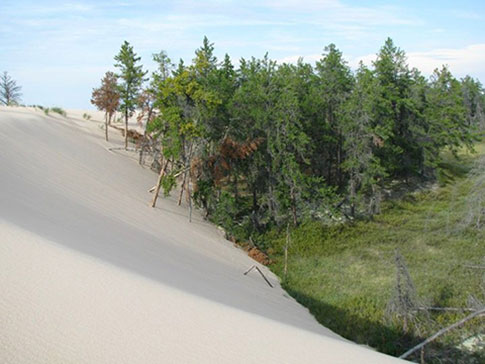 Athabasca Sand Dunes Provincial Park, © Sarah Vinge-Mazer